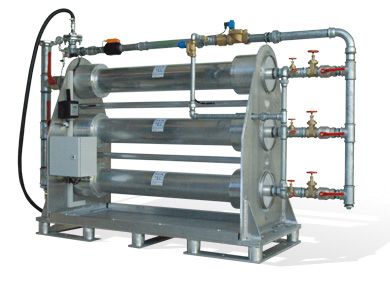 Nitrogen Membrane Units

LN.X-Series
Perfect nitrogen technology for permanent operation
Standard units up to 6.000 Nm3/h
Compressors with refrigeration dryers and filters or
compressed and cleaned air provided by the customer
Specific requirements from engineering to manufacture and approval of these plants
condition sophisticated technology, construction and production. Ambitious demands
of our clients are satisfied on the highest level. Manufacture of both lines standard products as well as special plants is customised according to individual requirements. These plants, both standard and industry design are manufactured for capacity from
50 Nm³/h up to 5.000 Nm³/h.


Functioning of these generators


The membranes are fed with compressed air which is cleaned by filter units mounted
upstream. The various components contained in the air, such as oxygen, nitrogen,
argon and other rare gases diffuse through the hollow fibre membrane at different
rates according to their respective molecular structure. Nitrogen has a low diffusion rate and penetrates the hollow fibre membrane very slowly, Thereby it becomes enriched on its path through the hollow fibres. Nitrogen purity is determined by the rate of flow of the gas. Based on the combination of solenoid valves and pressure switches, the generators only produce the actually required nitrogen gas quantity. Analyser units for residual oxygen content monitor the nitrogen purity at the generator's outlet.


Options:

redundant design, back-up system, operation-hour counter, alert function, booster,
stainless steel or Atex design, container mounted, temperature range
from – 48 °C up to + 60 °C.