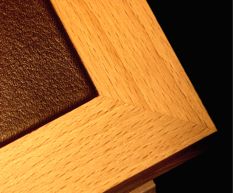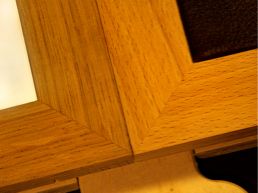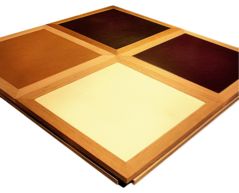 As a standard product, boxfloor is offered with or without a frame in sizes of 25 x 25 cm up to 100 x 100 cm, or 33.3 x 33.3 cm up to 99.9 x 99.9 cm, with a choice of leather in twelve colours and nine luxury woods.

By special request, Willes & Moore will assist in all design matters and can provide an installation plan if necessary
(recommended if different tile dimensions are being used).

Due to the special manufacturing process, Willes & Moore are in a position to offer you, in addition to the standard programme, the realisation of your individual wishes:

Dimensions of 12.5 x 12.5 cm up to tiles 100 x 250 cm in size (no seams, no joints), almost any choice of colour in leather or luxury wood, embossing, engraving, inlay of precious stones, frames made of bronze or aluminium-bronze, or the use of stone or glass instead of leather.

Whatever you may wish for or imagine, we and our partners will find a way to turn your dreams into reality in accordance with the
Willes & Moore philosophy of quality.

Boxfloor technology, with its wooden base construction, is based on a traditional Japanese method of connecting sections of wood and uses a click-system.

It is simple and proven, but brought to perfection in boxfloor. This system allows easy, fast and very stable mounting, and a floating
floor mounting is possible.

As an option, however, boxfloor can also be placed directly onto the existing floor surface.

Due to the strict use of high grade materials in connection with the unique manufacturing technology of Willes & Moore, boxfloor achieves
a mechanical durability previously unattainable for natural leather flooring.

The pure aniline leathers and luxury woods used are given a special surface treatment which is applied by hand, and consists of a mixture of waxes and oils, making the surface of the floor extremely resistant and preventing the penetration of, for example, red wine
or similar fluids for a period of about 15 minutes.

Upon request, boxfloor can be employed for use in yachts and trains in accordance with the latest standards.