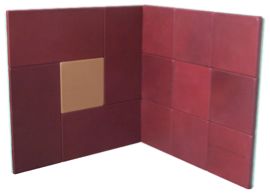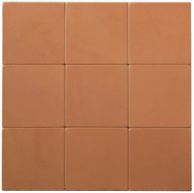 From the technological point of view, boxwall is a derivative of boxfloor, and has been developed jointly by Mr. Edward Willes and Mrs. Doreen Moore for use in exclusive wall designs.
The idea came about because customers often wished to use boxfloor tiles as wall panels as well, for design and acoustic reasons. But this rather obvious solution did not correspond with the Willes & Moore philosophy of quality!
Therefore they developed a wall panel, based on their experience with boxfloor, which can be individually pre-produced in the factory and allows the fulfilment of a customer's individual requirements.
Areas up to eight square feet can be fitted economically in situation as a single panel.
Here, Willes & Moore are in a position to offer, in addition to the standard programme of single panels in the size 10x10 cm up to 100x100 cm (in 10 cm increments), and leather in a choice of thirteen colours, the realisation of individual design concepts and special requirements:
Panels up to a size of 100x250 cm (no seams, no joints!), almost any colour of leather, various kinds of embossing, printed designs, and marquetry or inlays of precious stones or glass.
Panels for practically any use – wall panels, coffered ceilings (with or without a wooden framework), cabinet fronts, door panelling or lift panelling are all potential applications for boxwall.
Panels shaped in two dimensions or three dimensions, allowing organic shapes to be created, complete a full spectrum of possibilities.
Full support from design to the making of prototypes.
Individual designs for leather and colour for areas of 150 square metres and above.
"Furnishings and design objects produce emotions – we could not exist without them"

Doreen Moore